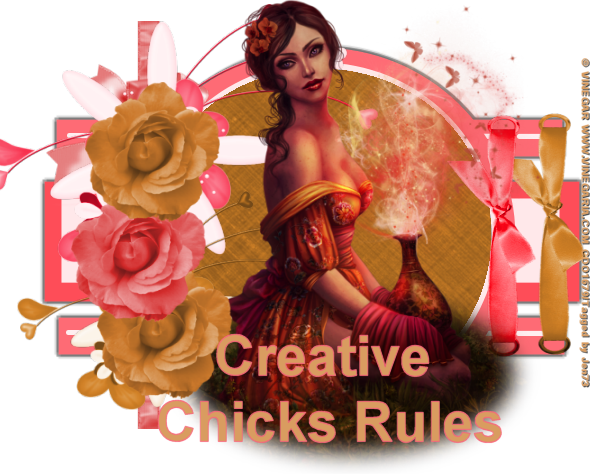 The Creative Chicks prides itself on being a drama free group!


Spamming, flaming, bashing, bitching will not be tolerated.

All we ask for is 3-5 posts per week to stay a member, but we would love you to post tons though, lol
More posts, the more fun!

If you do join the group and do not post in the first 2 weeks of joining, your membership will be cancelled.
You are more than welcome to reapply if this does happen!
 


when you register, you are prompted to put tagger or snagger.


Please note that putting both is not what we're looking for.
This field lets us know who's does not do tags at all. so, if you are a tagger, please put tagger only.
If you do NOT make tags, please, put snagger only. *All Members please go to your profile and make sure you have it right*

The Creative Chicks has an adult rating, that means graphic wise that a little or a lot of flesh is ok as long as it doesn't depict sexual acts or is deemed pornographic!
For example, a suggestion of cleavage or bottom is ok.
Links to artist sites that contain adult content do not need to be left off. All pay for use artists allow us to do this already, please check free to use artists for their T.O.U
 


The rules for these are very simple.


For signatures. Please limit it to forum tags or regular sized tags no larger than 750 x750.
Please only have 1 sig tag at a time if using a sig rotator otherwise you can use a 3 piece forum set.
You may add a line of text or a pixel tag on a 2nd line if only using a sig rotator.

Avatars are not to be any bigger than 200x200 and the file size cannot be higher than 64 KB
Stamps can be added in your profile.
 Please do not add any more than 3.
Please do not add anything other than Blinkies.
You can find some stamps [url=https://s636.photobucket.com/albums/uu82/JustJoJo/Crafty Chicks/stamps/]

here

[/url]
Or you can google stamps on Deviant Art.

 Going forth, please do NOT use the scrolling feature to add tags.
You can use the sig rotator which displays one tag at a time, but scrolling tags are not the same.

If your signature is found more than the required.. it may be automatically removed without notice.
We don't want to be the bad guys. So please just follow these easy rules...
It just makes it easier for those that have slower connections so please be courteous.

There is an extensive artist permission list. Please use artists off of this list, if you want to use art that we don't have permission for yet, please tell us! Any artists that are general permission on their site are good to go, as long as you have placed the copyright information on the tag you are using/made.

This is not a request group.
There will be offers made, but if that's the only time you post, to request, you will find your membership revoked pretty quickly.
You don't have to be offering to be able to request, just be posting in other threads.

Stock pictures, PSDS, Celebrity pictures, Licensed tubes, both old and new, and no longer selling, (ie, CDO, CILM, PTE, MPT, S&Co, etc etc) as well as Individually licensed artists (i.e. Barbara Jensen, Arthur Crowe, Jose Cano, Alicia Mujica etc) are permitted to be used here, as long as you have the license and have purchased the right to use the images.

Please feel free to post links to tutorial sites!

**Please do NOT take ANYTHING from this forum without permission.
Right from smiley's up to headers/tags etc.. It would be appreciated that you ask first**

We do the work to make our forum what it is.
We don't want people feeling like they can help themselves to things that took time for us to find and create.

When doing forum challenges, please be sure to read the rules of each challenge carefully as they may differ.
To clarify, we have 13 weekly challenges currently. Some of them include "twists" to combine challenges. You cannot make 1 tag for all of the challenges, but if it is a reasonable combination (say 3-4 different challenges), you would have to put different names on each of the posted challenges. (ie 3 names for wordart, different 3 names for font, another 3 for scrapkit etc).
 


Many Thanks for reading!
The Creative Chicks





Page created by a Creative Chick

Not to be removed or copied anywhere!!

Suzie

Creative Cutie




---




Diane15

Creative Goddess




---




Basima

Creative Goddess




---




momjen2

Creative BadAzz




---




celticmist44

Creatively Cool




---




Dustyrose

Creative Newbie




---



---
Permissions in this forum:
You
can
reply to topics in this forum